>> Wednesday, February 16, 2005
Today dawned bright. Sun shining, blue skies. So deceiving. The high today was about 38 degrees (yep, 6 degrees above freezing). Brenna and I had planned to visit Great Grandma & Grandpa's farm today but GG has a cold. Then I thought we would visit the the Botanical Center but errands took longer than I planned.

So we bundled up, loaded up in the stroller and out we went.



Bundled Up

This little pink blanket outfit was one I wore as a baby.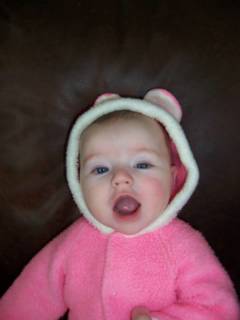 Goin' Outside!

Today was the first time Brenna has worn it. And the last, as my chunky little monkey was pretty snug inside it.

It has the cuffs that fold over to cover the fingers. Brenna was a bit confused about the missing fingers.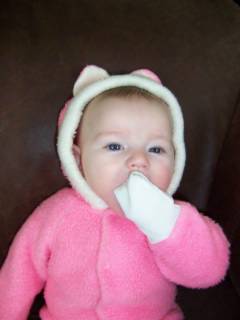 Where are my fingers?

Anyway, my little darling is now awake and from the smile and giggle I'm pretty sure there is a diaper change in the very near future. Like now.